Carolena is on the road 28 Jan-19 Feb. Downloadable DVDs will be delivered to your inbox without delay. Any orders of physical items will ship 25 February.
2020 February 22
San Diego
The Art of Belly Dance: ATS® – PART 1 (Anita & Michiyo)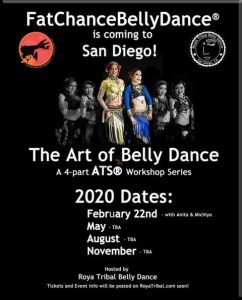 Roya Tribal Belly Dance is hosting FatChanceBellyDance® instructors for an All-Day American Tribal Style® Belly Dance workshop – The Art of Belly Dance: ATS®!
This is a 4-part workshop series, with each workshop studying one of the four main families of fast ATS
® movements along with a major family of slow movements.
Part 1: 2020 February 22 (Saturday)
ATS® All in the Family! – Bouncy and Sassy Shimmy (3 Hours)
Milk it to the Max: Melty Slow Movement with FCBD® (3 Hours)