We are on the road 28 Mar-2 Apr 2019. Orders placed during this time will ship on 6 Apr 2019. Please contact fcbd@fcbd.com with any questions.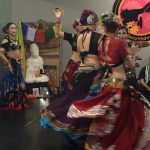 Monday, April 25 ~ 6:00-7:00pm     Reserve your spot!
Saturday, April 30 ~ 10:00-11:00pm     Reserve your spot!
Introduction to American Tribal Style® Belly Dance
Come explore the basic elements of this group improvisational format, including posture, fast movements, and formations.
No dance experience necessary, beginners welcome.
Location: Studio SF, 670 South Van Ness, San Francisco, CA