We are on the road 21 April and will return to ship 30 April. This effects the shipping of physical goods, downloads will be delivered at the time of purchase. Please contact fcbd@fcbd.com with any questions.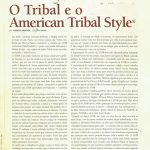 Shimmie magazine June/July 2015 issue 29
Interview with Carolena Nericcio and Megha Gavin while they were in Brazil, April 2015. Additional discussion with Kelsey Suedmeyer, an ATS® dancer and FCBD® Sister Studio; about her travels across the country, teaching ATS®.