Carolena is on the road 18-27 Jan. Downloadable DVDs will be delivered to your inbox without delay. Any orders of physical items will ship 28 January.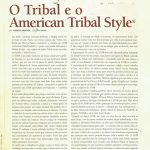 Shimmie magazine June/July 2015 issue 29
Interview with Carolena Nericcio and Megha Gavin while they were in Brazil, April 2015. Additional discussion with Kelsey Suedmeyer, an ATS® dancer and FCBD® Sister Studio; about her travels across the country, teaching ATS®.