ATS® Intensive with Carolena Nericcio-Bohlman & Megha Gavin
Hosted by Moirai Tribal
Location: The Freight House, Rochford, Essex, SS4 1BU, UK
General Skills for ATS® Classic & Modern (22nd-25th August 2017)
Tribal:Pura Weekend with Carolena & Megha (26th-27th August 2017)
Teacher Training (29th-30th August 2017)
Full details can be found here: http://fcbdtraininguk.com
If you have any questions email Philippa at fcbdtraininguk@gmail.com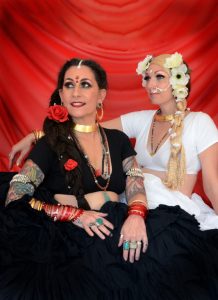 Hosted by Florida Tribal Dance www.FloridaTribalDance.com
Registration OPEN! Split payment options available!
For full details and descriptions see website
October 17th-25th 2017
General Skills Classic
General Skills Modern
Teacher Training
Open Level ATS® Workshop with Megha
Dancing in Flow® with Carolena
*SPECIAL* one on one sewing day with Carolena- Learn to make the ATS® Choli.
Questions, email Lacey Sanchez at floridatribaldance@gmail.com
Save
Save
Save
Save
General Skills and Teacher Training with Carolena Nericcio-Bohlman and Megha Gavin
Hosted by ATS® Reunion
Location: KCI Expo Center,11730 NW. Ambassador Dr., Kansas City, MO 64153 
General Skills for ATS® Classic and Modern- January 14-17, 2018
Teacher Training for ATS®- January 22-23, 2018
ATS® Reunion- January 18-21, 2018
Full details can be found here:  http://atsreunion.com
For questions, email Terri at terri@atsreunion.com
Save
Save
Save
Save