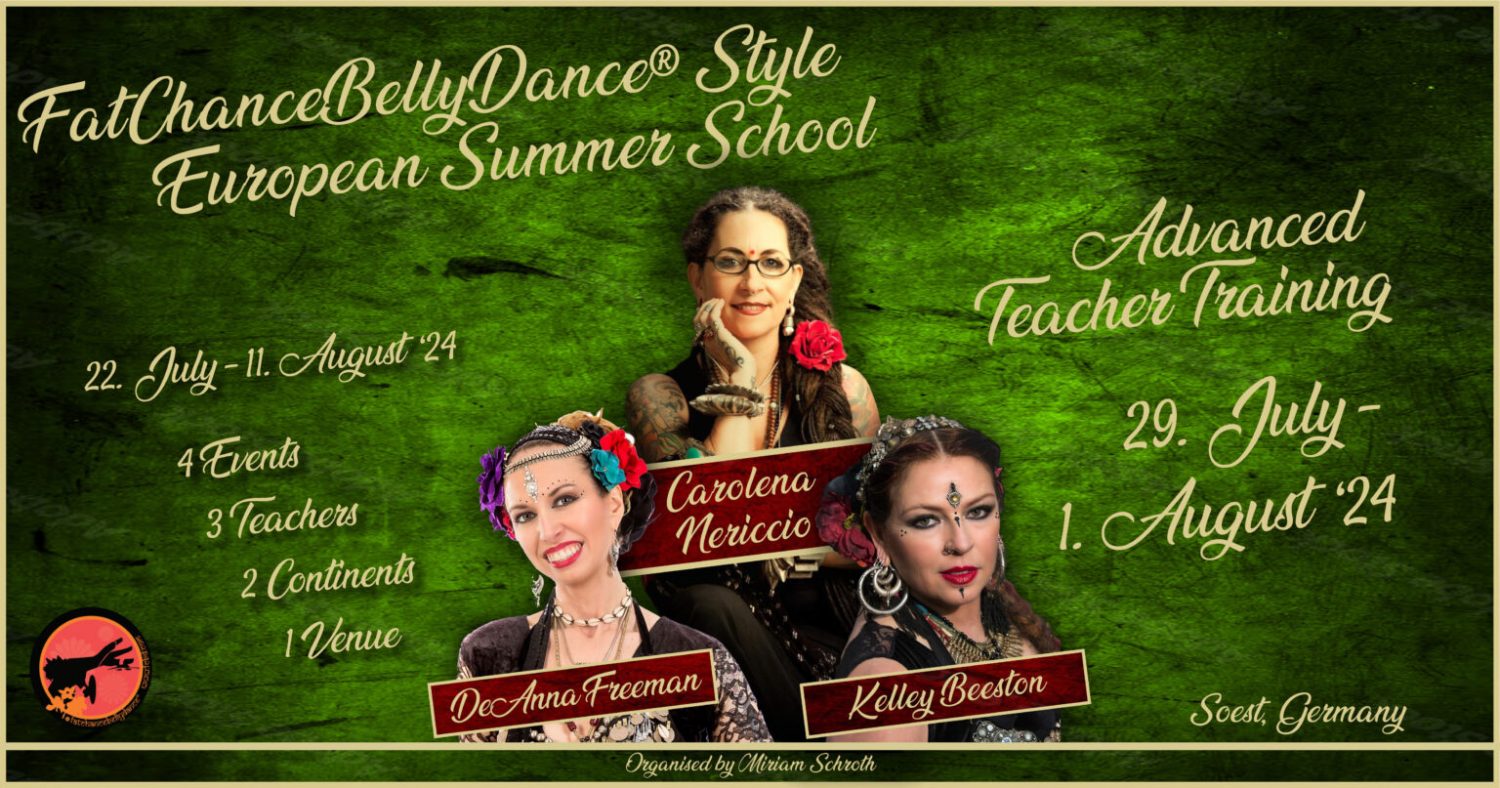 Applications are now open and due by November 30th
The application form on fcbd.com must be completed by 30 November. Including all supporting documents required there! Applications received after this date will not be accepted.
Carolena, DeAnna and Kelley will sift through the applications and Carolena will then decide who will participate in 2024. They will inform the successful candidates by email in early January.
With the confirmation email that you have been accepted for the training, you can submit the booking and accommodation form.
More information about the price, accommodation and Soest, please email att@fcbd-summer-school.eu
www.fcbd-summer-school.eu
www.kalash-tribal.com/weekend-retreat
About Advanced Teacher Training:
Prerequisite: We recommend at least three years minimum FCBD®Style teaching experience prior to applying for Advanced Teacher Training.
Are you ready to step up as an advanced teacher in the captivating world of FatChanceBellyDance®Style? How about diving into an exhilarating journey of intensive training, honing advanced teaching skills, and receiving personalized feedback? Ever dreamt of taking your FCBD® practice and teaching to that coveted "next level"?
Enter the realm of possibility with Carolena Nericcio and the dynamic team at FatChanceBellyDance® as they unveil the Advanced Teacher Training program, exclusively tailored for those holding Certified Studio Status.
Within the framework of the Advanced Teacher Training, participants will engage with a diverse set of advanced teaching skills. These encompass the mastery of classroom management, the adeptness of instructing across multiple proficiency levels, the art of curating comprehensive classroom and workshop curricula, the finesse of delivering precise corrections and adjustments, an introduction to the principles of trauma-informed teaching, the collaborative dynamics of co-teaching alongside fellow educators, and a selection of other advanced-level pedagogical techniques, all intricately designed to enhance one's efficacy in FCBD® instruction.
This is not a pass/fail course. You will be given daily feedback and be expected to incorporate this feedback into your subsequent training so that by the end you will be eligible for graduation.
Students that are interested in Advanced Teacher Training will be required to apply prior to acceptance into the program.