Bessie Design Studio
What comes to mind when you hear words "simple, elegant, playful, charming, cheerful, sweet, sassy, fun"?
Pretty much any tribal belly dancer will instantly say, "Bessie!"
The exclusive line of performance class and off-stage apparel designed by Kathleen Crowley in collaboration with Carolena Nericcio has become a must-have for many women who can now enjoy the exquisite elegance of ATS® in everyday life.
The following Bessie Line pieces are in production and available now in our shop.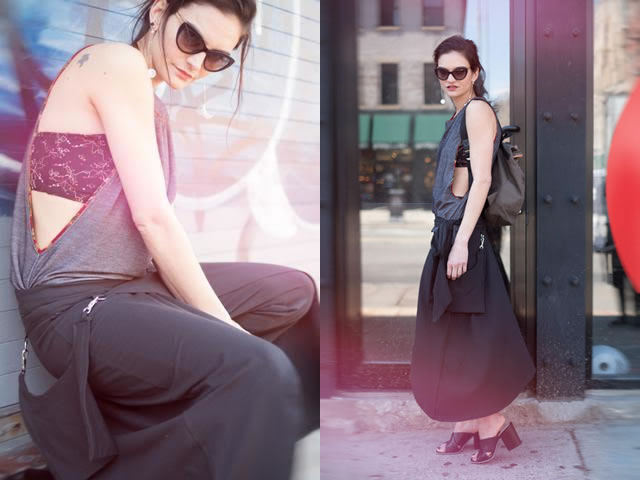 Dance Camp Pant
For several years I have attended the Sacred Circles Dance Camp* held at a campground by Lake Huron. Needless to say, it's rustic. I wanted a garment that I could pull on in the morning (without looking in a mirror!) work/dance all day inside and outside, and enjoy dinner and show in the evening without any fuss. I shared a sample and sketch with Kathleen Crowley and the Dance Camp Pant was born…
Bessie Plait Wrap
The Plait Wrap was Carolena's idea. I'm not sure where she got it from, but it was suggested by dancers with short hair having a hard time adding and keeping flowers in their hair. This wrap is a perfect solution to the problem – it enables you to comfortably wrap your head with braided fabric and pin flowers and jewelry to your wrap. Very easy to use.
Bessie Choli Dress
A brand new garment for ATS® dancers, the Choli Dress is literally a choli sewn inside an open-backed dress. The choli hugs your curves while the dress floats gracefully over your curves. The new version, "Maqsoum" features a wide criss-cross back if you choose to wear a bra and want to cover the straps. Cap sleeves, over-lapping side slits that open where your hips curve-no pulling across the mid-section!
Colors
Obsidian Black
Fabric
95% Modal/5% Spandex. Hand wash, line dry or dry clean.
Sizing for the Maqsoum Choli Dress
The Maqsoum is soft and generous. It needs to conform to the body fit snuggly in order for the dress to drape over the curves in the right places.
Sizes: XS, S, M, L, XL, 2XL and 3XL in both A/B cups and C/D cups. We can fit your body!