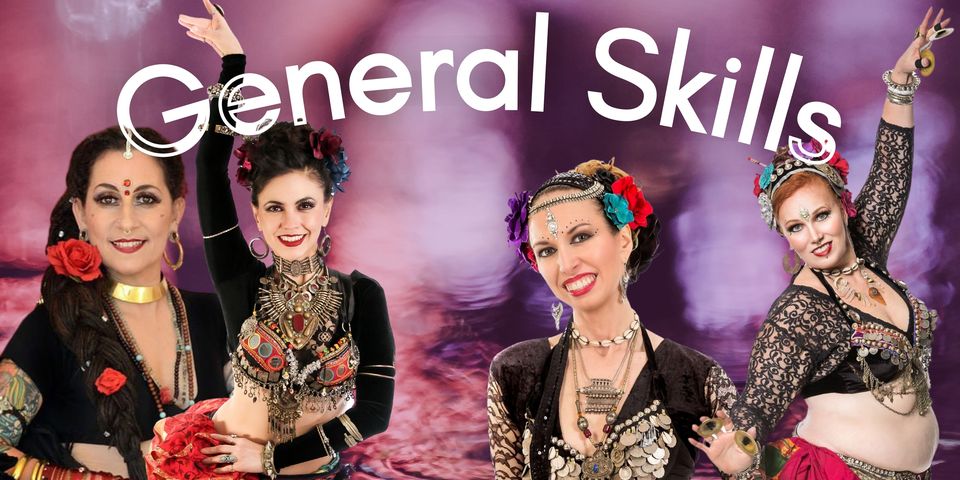 Join Carolena, DeAnna, Liz, and Lore for the first and only in-person 2023 General Skills in Nashville, Tennessee!
This 20 hour certification course will take place on November 6-9, 2023 at the Cambria Hotel Nashville Airport in Nashville, TN. This course will cover FCBD®Style movements and concepts documented on instructional DVDs volumes 1-7 including: formations, lead and follow, chorus, and finger cymbals (zils). This training is a prerequisite for those interested in taking Teacher Training for FCBD®Style.
Class begins promptly at 10 AM CDT. Each day will consist of five hours of instruction and a one-hour lunch break. A certificate will be rewarded upon completion. Participants must attend all 20 hours of instruction to receive a certificate. Any student not attending all required hours of class will not be certified. No exceptions.
Participants must be proficient in English or must provide their own interpreter with the approval from the instructors.
This is the only in-person General Skills for FCBD®Style scheduled for 2023. To ensure the best experience, registration will be limited to 40 participants.
Prerequisite: Participants should have a working knowledge of belly dance. A minimum of one year studying FCBD®Style is strongly recommended.
Cost:
$1,100USD
A partial payment option is available. A non-refundable deposit of $550 will hold your place. The remaining $550 must be paid in full by July 15, 2023. No exceptions.
Important Terms and Conditions:
Registration fees and deposits are NON-REFUNDABLE.
Limit ONE registration per person. We have a zero-tolerance policy for reselling tickets for profit.
Costs listed above do NOT include processing fees.
Registration fees do NOT include all food or lodging.
If you register but are no longer able to attend, you are responsible for selling your ticket. Please notify us at generalskills2023@gmail.com so we can transfer your ticket.
Additional Information:
After registering, please submit a dance bio and photo to generalskills2023@gmail.com. This should briefly describe your dance experience as it relates to FCBD®Style and what you would like to achieve in the intensive, but not a resume-type listing of everything you've done.
Hotel Information:
Cambria Hotel Nashville Airport (44 Rachel Drive, Nashville, TN 37214) Once registered, a direct link for hotel booking will be provided via Facebook group (or email if you do not have Facebook). We do have a limited number of rooms available at our negotiated rate so be sure to book one if you need one. We do suggest sharing with another participant, if available.
Disclaimer:
(1)If the training must be cancelled due to extraordinary and unforeseen circumstances, participant agrees to hold FatChanceBellyDance, Inc., Fire Phoenix Belly Dance and its associates harmless from any and all losses incurred due to the cancellation.
(2) The information provided during and as part of this training is for educational and informational purposes only. Participant agrees and acknowledges that FatChanceBellyDance, Inc. and its instructors are not providing medical advice in any way.
(3) We recommend you consult with your physician before beginning any exercise program. You should be in good physical condition and be able to participate in the exercise. Always seek the advice of your own Medical Provider and/or Mental Health Provider regarding any questions or concerns you have about your specific health before implementing any recommendations or suggestions from this training.
(4) Participant is voluntarily participating in this training at their own risk and assumes all risk of injury.
(5) Participant shall fully and completely hold harmless, indemnify and release FatChanceBellyDance, Inc., Fire Phoenix Belly Dance and any of its agents, consultants, affiliates, joint venture partners, employees, shareholders, directors, staff, team members, or anyone otherwise affiliated with the organizations from any and all causes of action, allegations, suits, claims, damages, or demands whatsoever, in law or equity, that may arise in the past, present or future that is in any way related to this training.
Please direct all questions to the event host: Fire Phoenix BellyDance