In the way of the Dodo, and other historical landmarks whose extinction was fueled by destruction of habitat, the FatChanceBellyDance® Mothership is closing its doors at the end of June.
Due to the inevitable rent hike we can no longer afford our palatial estate but never fear "Modernize or Die" is our new mantra.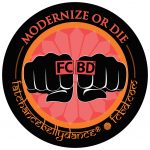 Instead of mourning the loss of this sacred space that so many of you have called home, we look ahead and celebrate the FatChanceBellyDance® of the future.
We embrace the diversification of FCBD® as it unfurls its branches throughout the San Francisco Bay Area.
We plan to have locations in San Francisco, East Bay, and Half Moon Bay, CA. You can find all your favorite FCBD® studio teachers still at their craft of making the world a better place, one dancer at a time.
Fine Print: aka what does this mean for you.
It's business as usual at www.fcbd.com, you can still shop the catalog (look for great deals while we pack!), enjoy a virtual class, register for SSCE, find a Sister Studio near you, attend Homecoming, subscribe to the FCBD®Style magazine, and find a workshop in your area.
Good news is that all your FCBD® Studio teachers are still here, you will find us scheduled for regular classes around the San Francisco Bay Area and can book us to teach a workshop near you.
However, you'll have to pardon our dust if you plan a San Francisco sojourn in our final days, there maybe a slight interruption in the class schedule but we will do our best to keep dancing until that dust settles.
To further the theme of "Modernize or Die" the FCBD®Style Magazine will now be available in an enhanced digital form for all subscribers.  We have decided to discontinue the print version of the magazine in order to provide the most interactive and cutting edge product for our readers.  In Issue 5, the first of the enhanced digital versions, you will find interactive articles with video, sound, and photo galleries.  The new enhanced digital format is a feast for all of the senses.
Even those readers who prefer paper will find the new format irresistible.  However, if you really want to hold it in your hand, you can print the PDF option of the new format .  The new digital format will be downloadable on any device so you can take it on the go, for your reading pleasure. For more information about the new subscription plans, advertising packages and the magazine, visit www.atsmagazine.com.